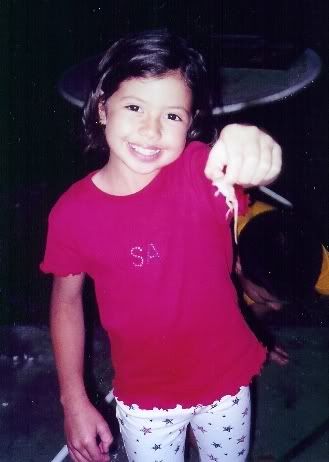 Meet Maria Claudia Medina
by her aunt, Diana Guillen
Maria Claudia Medina was born on December 21 1994 to a very young couple, Diego and Sandra in Cuenca, Ecuador. Shortly after her birth, the family moved to Chicago (Logan Square area) where Sandra's parents lived. Diego worked as an auto-mechanic in Bucktown/Wicker Park area while Sandra stayed home with Maria Claudia.
Within 4 years, their family had grown to include two younger brothers for Maria Claudia, Marcos and Juan Daniel. By the year 2000, Diego and Sandra, had moved back to Cuenca, Ecuador. Diego started his own auto repair business in Cuenca, while Sandra cared for the children. She eventually became employed at Maria Claudia's grade school teaching English to young girls.
Sandy is fluent in English and Spanish, since she was born in the US and spent most of her life in the Chicagoland area. Diego, on the other hand, was born and lived in Ecuador most of his life. Sandy and Diego met in Cuenca in 1993. Life was going relatively well for them in Cuenca. They completed building their home in 2003. The boys played soccer, Maria Claudia enjoys dance and has been in ballet since she was 6 years old. All three had been currently enrolled in tae kwon do classes. She's a big fan of RBD, Hillary Duff and Bratz Dolls. Maria Claudia LOVES to dance salsa and cumbia.
Maria Claudia and her brothers were always thrilled to return to the US during their summer breaks. They enjoyed visiting their aunts, uncles and cousins who live in the Chicagoland area. Abuela Sara and Papi, had moved from Chicago to Kissimmee, Florida to avoid the harsh winters that were not good for Papi's health.
This year, however, Maria Claudia's three US cousins were going to visit Maria Claudia and her brothers in Ecuador. She and her brothers were so excited to have their cousins visit them for a change. They had last spoken on Mother's Day of their upcoming trip and could not wait for the school year to be over.
On June 1st, as Maria Claudia was getting off her school bus (in Ecuador, school buses are vans which transport the kids back and forth from school) at the subdivision of where she lives, she was hit by a car who that did not slow down or stop at the bus. To make things even more tragic, the car that hit her, did not stop at all. They kept going. When her mother got to her, she was covered in blood, still conscious but barely talking. She was rushed to a clinic. They discovered that both her legs had been broken, one in four places. Her beautiful little face was severely bruised and swollen and her lip was cut as well.
Unfortunately, that was not the worst part. A CT scan or MRI had indicated there was bleeding and swelling inside the brain. Within the first 24 hours of the accident, Maria Claudia could still follow simple commands such as squeezing her mom's hand when told. Within the next week, Maria Claudia no longer followed these commands. She became virtually non-responsive. Everyone, including her doctors, believed this was temporary and would eventually start responding to her surroundings.
Eventually, Maria Claudia had to be hooked up to a catheter, a feeding tube and equipment that constantly monitors her vitals. She started to have bed sores from the lack of movement. The pins in both of her little legs made it difficult to change positions. She also started experiencing seizures on one side of her body.
Needless to say, the much anticipated summer turned out to be quite different for our family. I traveled to Ecuador alone, without Maria Claudia's cousins to see her for myself. It absolutely devastated me to see her in that condition. The loving, little girl who loves to sing and dance was silent and confined to a hospital bed. Her eyes wandered around the room. She had several pins coming out of her little legs. She moved her right hand from time to time. She swallowed the chamomile tea Abuela Sara put in her mouth with a spoon. She moaned when the physical therapist came daily to move her legs, arms and neck to prevent her muscles from stiffening. She moaned when she had difficulty with her bowel movements.
No one can fathom how a mother feels finding her child, her only daughter, on the street, covered in blood. Is she dead? What happened? Who did this? Or her father, receiving a phone call at work from his frantic wife telling him of the tragedy that had just occurred. Her brothers cry because they miss playing and fighting with Maria Claudia. The stress of handling the situation, holding the family together, work and the ever-growing medical expenses have taken quite a toll on both her parents.
They firmly believe that Maria Claudia will recover. There are very many people praying for her recovery. Her friends from school come and visit her and also (at the age of 11) organize and hold prayer vigils for her. Her brothers now help in Maria Claudia's care taking by feeding her or by taking readings on the monitors.
Three and a half months later, Maria Claudia seems to be "looking" at things or she will try to find where sound is coming from. She tries to move her mouth and her hands. Her mom wheels her outside routinely for some fresh air. She bites her mom's finger when she tries to clean her pretty teeth and her tongue.
Her family hopes to bring her back to the US for proper rehabilitation for her condition. Unfortunately, medical care in sub-developed countries does not compare to the technologies and facilities available here in the US. We often wonder if she received the proper diagnosis and care at the time of the accident. Would her condition be different if perhaps her brain was scanned with MRI equipment specifically designed for the brain?
Are there techniques that doctors should be using for these situations?
Finding a facility in the US that would treat her has not been easy either. We contacted organizations that deal with brain injuries and rehabilitation centers. Many rejected her because of her age. Others because she cannot do any of the therapy on her own. Another factor is the expenses to be incurred. Maria Claudia was not covered under any type of health care insurance, which is not common in Ecuador.
We looked at facilities in Orlando, Florida, which would have easier as far as travel from Ecuador is concerned and because Maria Claudia's grandparents live in nearby Kissimmee. Jackson Memorial Hospital in Miami was willing to review her records, but would have to become a Florida resident to become eligible for public health care.
I contacted Children's Memorial Hospital in Chicago, who referred me to Rehabilitation Institute of Chicago. I obtained a set of MRI films and a letter from the neurologist in Cuenca for RIC (www.ric.org) to review. The staff at both Children's Memorial and RIC have been extremely helpful and supportive. They suggested we apply for Medicaid under the All Kids Covered program so Maria Claudia have health care coverage (www.allkidscovered.com) as an Illinois resident. RIC has agreed to see her but commented that the information that her neurologist provided was "limited". This was concerning to me. Was this doctor not doing enough for her ?
One of our final hurdles is the following. If we are able to get Maria Claudia here, she cannot do so as a regular airline passenger. She needs to be medically supervised; her vitals, catheter, diaper, feeding tube, oxygen tank all need to be managed during a trip that could be quite stressful on her frail body. We have looked for charitable organizations that transport patients for medical treatment. We have found several that operate within the US such as Angel Flights/Miracle Flights (with strict guidelines on the conditions of the patient). We have yet to find one that operates internationally. Air ambulances for a route from Cuenca Ecuador to Chicago run about $40K. All of these companies have said that if they have another patient to transport to/from Ecuador around same time frame, they can bring down the cost. None will quote me exactly how much the price will drop.
The director of Children's Memorial referred me to a doctor at University of Chicago, Dr. Cai Glushak, whom she thinks can help me with other resources/ideas on how to bring her safely and cost effectively given the situation. We finally spoke the week of 9/18. He suggested that perhaps Maria Claudia fly on a commercial flight, either first class or business, accompanied by a certified aero-medical professional to monitor her during the entire trip. He also said that in other cases, patients have been administered an IV in lieu of being fed thru their tube to avoid vomiting and possible aspiration. He indicated that airlines have different guidelines for accepting patients with serious medical conditions and I should check with several that fly out of Ecuador.
Medical escorts can still run up to 20K from Ecuador. We have concerns about flying her commercially. We worry about delays, having enough oxygen and medical supplies to cover delays, connecting flights, particularly because of the heightened security procedures. He offered to put me in contact with people he's worked with for both ambulances and certified medical escorts and request they do it at the lowest possible cost. Air ambulance would certainly be less stressful on Maria Claudia, quicker but most expensive.
As of 9/25, I have not gotten more info from Dr. Glushak. I have spoken to a few airline companies, (Avianca and American Airlines). American may be a possibility if we can get Maria Claudia to sit without slouching or falling over. Avianca does not fly direct to Miami or Chicago, as with other airlines such as LanChile, Copa, Taca that fly out of Guayaquil, which is closest to where she currently lives. There is one more pending phone conference between Dr. Rak at RIC and Diego and Sandra regarding Maria Claudia's visit and evaluation at RIC.