BALLROOM CITY IN VILLA PARK
DANCE CENTER CHICAGO IN CHICAGO
THE DANCE SPOT IN NAPERVILLE
NO PARTNER NECESSARY FOR ANY OF OUR CLASSES OR WORKSHOPS.

ADVANCE RESERVATIONS ARE REQUIRED.
BEGINNER, INTERMEDIATE AND ADVANCED LEVEL CLASSES!
YOU MAY REGISTER FOR A CLASS OR WORKSHOP ONLINE. YOU WILL RECEIVE AN EMAIL RECEIPT AND CONFIRMATION. IF YOU HAVE ANY ADDITIONAL QUESTIONS OR WISH TO REQUEST ADDITIONAL INFORMATION PLEASE EMAIL JED WALKER OR YOU MAY CALL JED WALKER AT 630.251.3906.
The fire engulfs, your heart pounds, the hot blood coursing through your veins as you move rhythmically to the alluring beats of
Salsa and Bachata.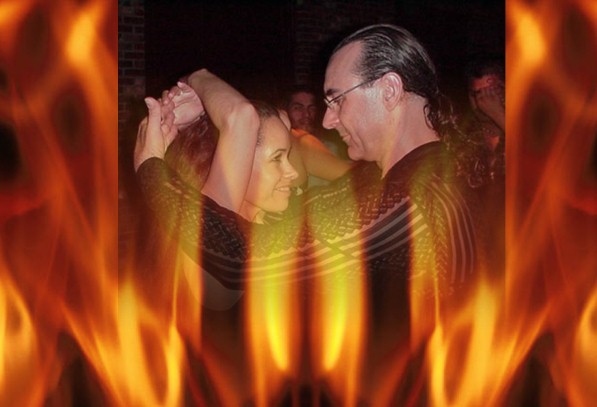 ---
MINI BOOT CAMPS ON SUNDAY, MAY 19, MAY 26, 2013.

MULTIPLE LEVELS OF DIFFERENT MINI BOOTCAMPS.
BEGINNER SESSIONS.
LEARN TO DANCE IN ONE DAY.
BEGINNER/INTERMEDIATE AND INTERMEDIATE SESSIONS TO SUBSTANTIALLY IMPROVE YOUR DANCING IN ONE DAY.
NEW INTERMEDIATE TO ADVANCED LEVEL MINI BOOTCAMP.
PERFORMANCE LEVEL MOVES TO DRAMATICALLY ENHANCE YOUR DANCING IN ONE DAY.
EACH MINI BOOTCAMP IS A SEPARATE SESSION. THE SESSION WILL BE HELD FOR 3 HOURS, WITH BREAKS, ON ONE DAY ONLY.
EACH MINI BOOTCAMP IS $40.00 PER PERSON EXCEPT THE SPECIAL INTERMEDIATE/ADVANCED MINI BOOT CAMPS WHICH ARE $50.00 PER PERSON.
---
Sunday, May 19, 2013
4:00 PM to 7:00 PM
SULTRY SALSA, FROM THE BEGINNING, #101:
We start from the very beginning with the basic and the progressive basic steps. Next, we learn to hear the beats of music in the measure. Then, we learn how to connect with, and communicate to, our partner through the movements of our body utilizing our dance frame. We apply this to dance Salsa with "On1" timing or "LA style" Salsa. We will teach you a right turn, a behind the back hand change, some cute combinations such as the matador with the styling of the hairbrush and the waterfall. In addition, you will learn the "connector move", the cross body lead. Then we will create a fun dance routine for you to use to practice our new moves and to take to the clubs to dance. We will show you how to put these all together so that you can move smoothly from one combination to another to make your dancing flow and get you out on the dance floor looking good!
THIS CLASS IS FOR PEOPLE NEW TO SALSA AND FOR PEOPLE THAT KNOW SOME SALSA BUT WISH TO IMPROVE THEIR BASIC TECHNIQUE, PARTNER CONNECTION AND TIMING OR TO BEGIN LEARNING VARIOUS TURN COMBINATIONS.
---
Sunday, May 26, 2013
NOON to 3:00 PM
BLAZING BACHATA, STARTING THE FIRE:
HOT AND SEXY CLUB DANCE.
We start with the basic step and timing. Then, we progress to turns and turn indications and intermediate level moves such as the wrap and hammerlock and even a sexy dip that will have people standing and watching you move to the alluring beats of Bachata.
THIS CLASS IS FOR PEOPLE NEW TO BACHATA AND THOSE THAT KNOW SOME BACHATA BUT WANT MORE!
---
Sunday, May 26, 2013
4:00 PM to 7:00 PM
SULTRY SALSA, TURNING UP THE HEAT, BEGINNER/INTERMEDIATE SALSA, #102: